I did it!! :woohoo: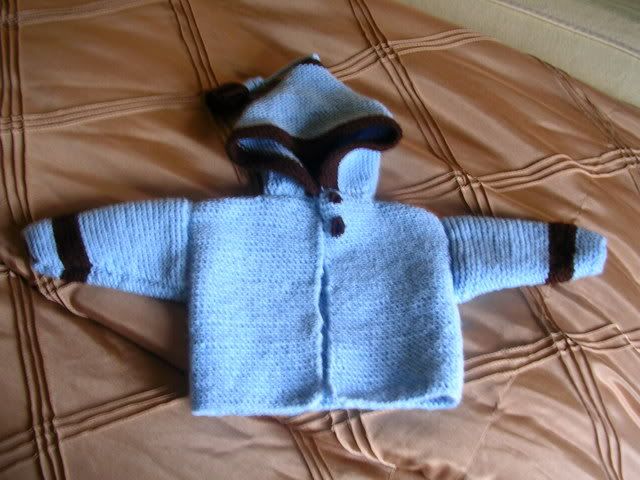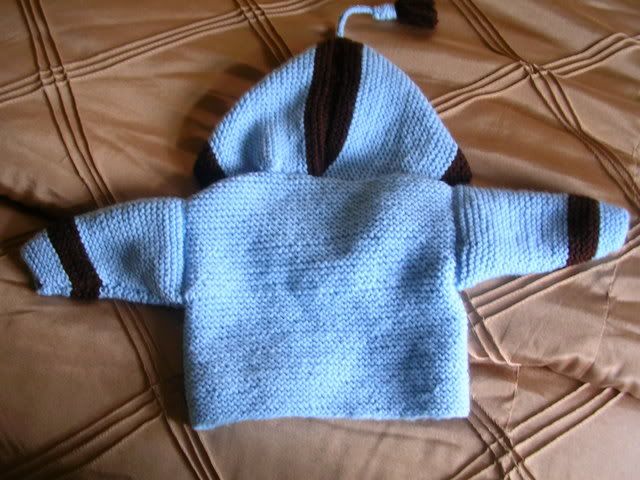 that is too cute! :cheering:
what pattern did you use?
That really is cute! Does the back of the hood have a slit in it? Picture might be misleading…
No the hood is seamed up the back then stitched onto the sweater … sorry I tried to get a better picture but they all looked the same blahhh! :hair:
:teehee: No problem! Getting photos can be hard. It's adorable!
ohh…that is too cute…good job! What pattern did you use?
TFS…
Rhonda
I just love this little sweater! Great colors, great pattern! Nice work.
it simply beatifull , i love the color.
Cute!
:cheering:
Awww…that's so cute! I love the blue and brown together.
That is adorable. Please tell us which pattern you used.
[FONT="Century Gothic"]Great job on your first hoodie! It was fun to make wasn't it? I love knitting for babies.[/FONT]
Thanks … Yes it was great fun and I was so surprised at how easy it was! I am LOVING making things for my nephew and cant wait until he is born.
I'm working on a Cardigan right now … my first. Its a bit tougher cause its an old pattern but its worked from the neck down so keeping my fingers crossed I can finish it.
That's a cute little sweater!:cheering:
I LOVE IT!!! You did a great job, and I have 2 little grandkids–3 years old and 3 months old–so you KNOW I'll be knitting one or two soon!:woohoo:
Thanks for posting it–it's inspiring to me when I see so much cute knitting!:yay:
Thanks for sharing the pattern…I have been checking back faithfully to see if you had shared the pattern info! Thanks again…Rhonda
That is just adorable! Don't you love baby things? So quick to do and so rewarding. You did a great job. I like your color choices too.
That's one adorable hoodie!