24 hours after felting, still not dry. But they came out so good! :woot: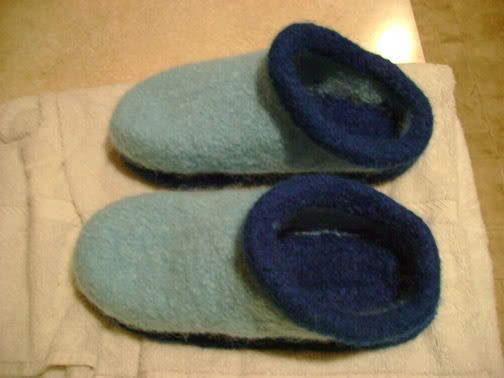 Now those are just darn cute! Bet they're comfy, too! Great job!!! :yay:
They are really easy to make. DOn't be afraid to try i have not made socks before and i found them really easy!!! All you need to know is knit, purl, short rows and w&t (wich is explained on the pattern.) Try them! Back to the spin cycle question. I did let them go thru and it didn't bother them. But how long does it usually take everyones felted stuff to dry? It takes like three days for mine to dry I'm afraid they are going to mold or something. Am i doing something wrong?
So cute!
Someone on another thread said she placed a fan in front of them and it helped dry them quicker. I guess it depends on how humid your area is too - I mean, if there's a lot of moisture in the air it's going to take longer.
My LYS finally got the pattern in, so I am all set to begin these clogs this weekend! I am making a pair for me, one for my MIL and one for DD. Can't wait!!!
Off to order more yarn for DH, Mom, Dad, Sis and the rest of the family! I think I can knock out a bunch of these before Christmas… LOL