I've just finished these today.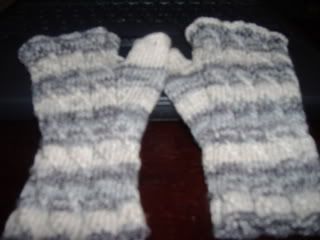 the pattern is on ravelry. I was taking a break from doing my mum's CPH.
Very nice, warm and cosy looking. Love the yarn
Very nice job and I love the colors. They do look nice and warm.
Very nice!
I started making some like that, but I didn't have a pattern and found that the stitch pulls in quite a bit and they kept being too tight. It was for a gift so I gave up and used garter rib. :teehee:
:happydance: very pretty…I love the color of the yarn…
Oh those look so soft like they would be very comfortable to wear!
Wow Catz those are so nice x
Ohhhh I love that colour yarn. You did a great job of these. Nice work! Now… back to your CPH!!! LOL
Those are beautiful-what a lovely yarn!
They look nice and warm too-well done!
These are beautiful! The shaping is really nice and these don't appear to be bulky. I say that because I made a simple pair for a co-worker and she didn't like them because they were too bulky. These might be the ticket! Nice job…:happydance:
Beautiful yarn…great work!
The pattern suggested using sock yarn so thats what I did lol. They are warm and not bulky at all.
They look warm and pretty.