http://knitty.com/ISSUEwinter06/PATTpiggle.html
[B][I]Decrease Round[/I]: [P2tog, work to marker in patt as set] 6 times. 6 sts decreased.[/B][I]
[B]Next Round[/B][/I][B]: Work all sts in patt as set. If there are not enough sts in a rib to work the lace pattern, work these sts in stockinette st instead.[/B]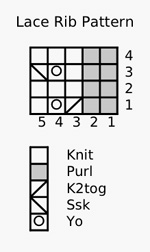 I started the decreases on this hat, but the rib pattern started to look completely broken up and all wrong, not straight like it looks in the second pic in this pattern. I just ripped out a ton of it this morning.
I guess my question is, when it says to continue in pattern, does that mean I should follow it according to the rows below? I was continuing in the P2, K3 pattern (the decrease rows end up on the even numbers) but it was jarring the rib pattern and looking terrible. When I P2tog, should I purl another before starting the K3, or not?
Is even my question making sense?