making this flowerburst dischcloth (nice gift). Found it on Allfreeknitting.com. Isn't it pretty?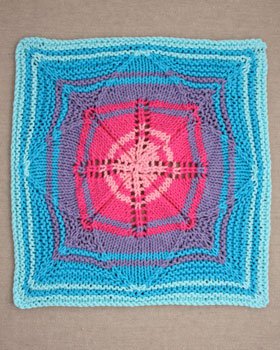 but I cannot figure out the 3rd row, which says:
K1,(P1,yo,K1,yo) 4 times, P1,K1 …which gives you an increase of 8 stitches.
You see, if you P1,yo…your'e now ready for a regular knit stitch …and you don't get an increase. I tried wrapping the yarn all around the needle but that didn't work.
I'll give you rows 1&2, but it's a very long pattern, so I won't type it all in here. You can get it over at allfreeknitting.com. Search for 'Flowerburst dischcloth'.
Here are rows 1 to 3…if you want to try it. Thanks a bunch!
With A, cast on 6 sts.
[B]1st row[/B]: (RS). (K1. yo) 5 times. K1. 11 sts.
[B]2nd row[/B]: (P1. K1) 5 times. P1.
[B]3rd row[/B]: K1. (P1. yo. K1. yo) 4 times. P1. K1. 19 sts.