I have reached a point in my knitting career where I look at my stash and say "I have too much yarn." Plus, my mother is coming into town next week and I don't need any more reasons for her to think I have issues. Plus, I could use some extra money. I have bought lots of high-quality yarn, but I just don't need it all. Like I now have at least 2 other 100% silk projects in queue. Or I have some nice stuff leftover from another project. Or that sweater I was going to make my father has fallen through. Or I just have too much sock yarn! What I'm trying to say is there is nothing wrong with any of this yarn. Oh, except I do want to say that the Tofutsies, Soxie, 1 skein of the Malabrigo, and the Lisa Souza have been swatched (no more than 2"x2"), . Also the silver colourmart lace (they called it "light dk" or "heavy fingering" or something like that, but it looks like a heavy lace weight to me) is a little stiff. I was disappointed with it when I got it so they sent the smaller light blue cone as consolation, which is much softer. I have no idea what that one is or how much yardage is in it.
Okay, [B]all prices include shipping in the U.S.[/B] If you live somewhere else, I'd be happy to ship and we can work out the extra cost for shipping. Okay, here goes, click for bigger pics:
Yarn Treehouse, self-striping, 100% wool, 65 grams, 110 yards each ball, 4 balls. $10 - [COLOR=Red]GONE![/COLOR]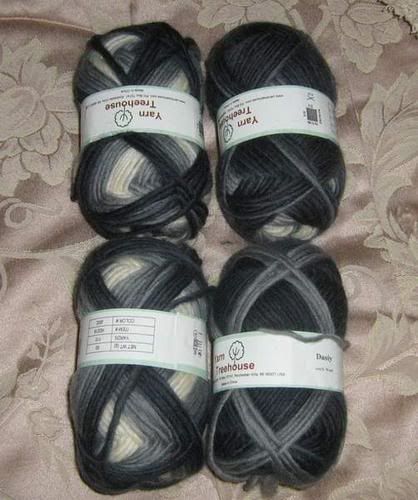 Colourmart lace. The silver one is very shiny and has at least 1100 yards, 100% silk, 150 grams I think. Looks like a heavy fingering to me. Is 2-ply. The light-blue one is also 2-ply. It's soft. I think it may be their cashmere. $18 for both. [COLOR=Red]-GONE![/COLOR]

Malabrigo. What has the world come to when I'm destashing my Malabrigo. I bought it in sweater quantity for me, but it pills too much in a sweater for my tastes. Beautiful color, though. Dark tone-on-tone burgundy. "Burgundy" is the color, actually. 5 skeins, 100 grams each, 200+ yards each ball, $40 - [COLOR=Red]GONE![/COLOR]

Tofutsies sock yarn. A white, brown, and black color. 100 grams, 425 meters, $10. - [COLOR=Red]GONE![/COLOR]

ArtYarns Regal Silk. This stuff is NICE! It retails for around $20/ball. Dark yellow, light yellow, and white. Each skein is 50 grams, 163 yds, 100% silk that is very soft. 3 skeins. $40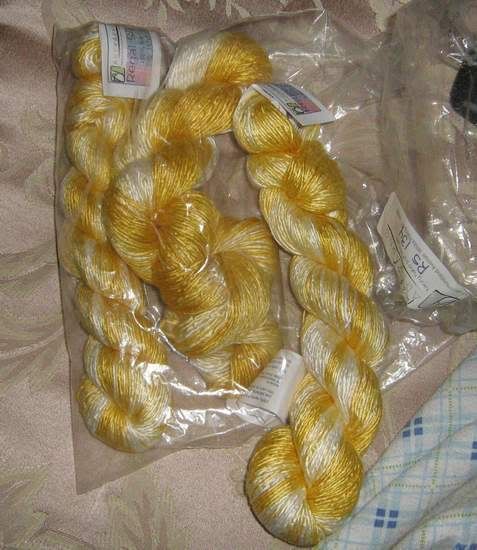 Soxie sock yarn in color "Nantucket Blue", 100 grams, 360 yards, superwash merino. $14.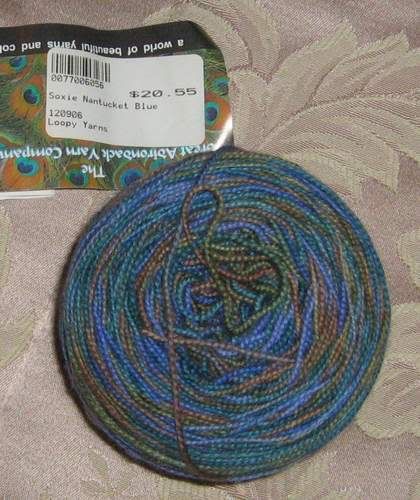 My favorite work-horse yarn, Plymouth Encore. 75% acrylic, 25% wool, machine washable. Each skein is 100 grams, 200 yards. 6 skeins of the medium dark gray (color 0389), 2 of the off-black (color 0520). There is enough for at least a 44" mens sweater here. I know because the other 4 skeins I bought of the light gray nearly finished a 45" sweater for my father (until i realized the arms were too tight :teehee: and didn't feel like doing them again). $35 - [COLOR=Red]GONE![/COLOR]

Lisa Souza sock yarn, 100% wool, superwash, in color Marsquake. 100 grams. This is a pretty color; I just have too much sock yarn. $10 - [COLOR=Red]GONE![/COLOR]

Nice, nice, nice! This stuff is so nice. I originally bought enough for a slim top for myself, but decided I wanted a clapotis instead. I made a slightly smaller clapotis and this is what's left over. 1 and 9/10 of a ball (I used 2 and 1/10 of a ball for the clap). 100 grams, 250 meters each, 50% wool, 50% silk, hand dyed in the color "Nova Scotia", 2 ply, it is beautiful. I generally don't knit the same yarn in the same color twice, but if you guys don't buy it, I won't be that sad. Retails for $30 a ball. $40 for these: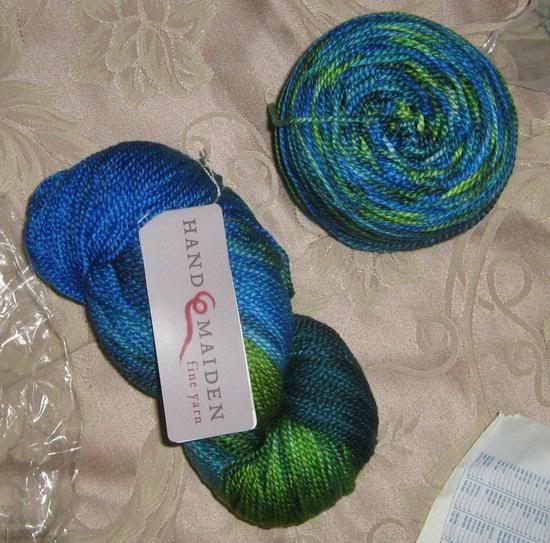 If you have any questions, feel free to ask them here. But in terms of sale, first ones to PM me get preference.