Nuno, what was the total cost on your supplies? I did a rough tally once and just thought it was too high. It's not like I really have someone I want to make them for. I just thought they were the cutest!
Jouf
Those are really cute and I think I bookmarked them already. I just can't make them now
I have to "start" my socks for the first knit along.
It was about $30… so yeah pretty high. I have seen people that made them with simple Red Heart yarn and they still looked cute.
I made a pair of these for my grandbaby and used some less expensive yarn and they turned out wonderful.
I used a superwash wool in camel and white chenille type yarn for fluff.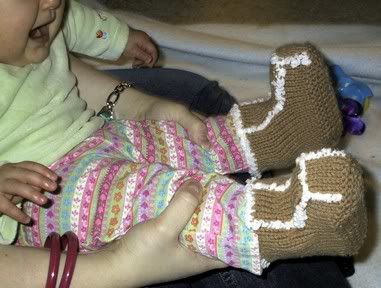 Those are adorable!
How do I attacch the fuzzy stuff to the sides? I am lost
I just did a running stitch of the white yarn after the booties were all knit.
running stitch
scratching head How do I do that? (yeah, I am new)
On the show, here's what the guest did for the white yarn on the sides. She took the white yarn and strung it through a yarn needle, and just wove the yarn through the brown bootie stitches up the sides of the bootie and across the foot. After that, I would run an inch or so through irregularly and clip the yarn.
I guess if you wanted, you could do a more decorative stitch but with the fuzziness of the yarn, the detail wouldn't show very well.
Good luck…
Denise
Finally! I got them done
I still didn't understand how to get the fluffy part on the sides so it look pretty "homemade" :roll:
Please pay no attention to the needed to be dusted surface they are on :oops:
The trim looks exactly like it did on the show! Great job!!! Very cute!
Ohhhhhh, those are so adorable Nuno!!!
Debbie, yours are great too!!! Nice job on the yarn substitution, very nice indeed!
Amy
I want to do these, but I am NOT spending that much on the yarn. I'll have to look around so it may take some time.
BTW your pictures won't load and your avatar is gone.
i actually tried to make these last summer, and went out and bought lion suede yarn, it is totally the wrong gauge, WAY TOO BIG. so i could make the pattern for an eight yr old, maybe, or figure out how to modify the pattern for my yarn.
blushes
swatch, swatch, swatch! and if not using the called-for yarn, MAKE SURE YOUR GAUGE MATCHES!
in the pattern, the gauge is 24 stitches = 4" (10cm) in st st using size 5 for smaller size; 21 stitches = 4" (10cm) in st st using size 6 for larger size.
since its 5 & 6, i really can't get that much smaller to match the gauge, what size 0 needles with bulky yarn? No, i don't think so.
the lion yarn website http://cache.lionbrand.com/yarns/lionSuede.htm llists the gauge as 12 st by 19 rows = 4" (10 cm) on size 9 (5.5 mm) needles
any ideas for how to fix my oopsie (without buying new yarn…?)
i really wanted to make these for my son, before he was born. oh well!
for everyone who is going to make these, I found a yarn simular to the yarn used.
Lion Brand has a great chenille yarn. I'd say that the Mocha is simular to the suede yarn.
does the lion chenille worm?
Rats. I just bought the suede yarn. Well it's worth a try. I will do a gauge swatch and adjust the needle size. I did see that chenille yarn so if this doesn't work I will try that, too.
Well that didn't work. I looked at the Lion chenille and it says not recommended for knitting! What the? :?? I might try it anyway…