I got the book "itty-bitty nursery" by Susan B. Anderson for Christmas.
(BTW it has quite a few cute things: clothes, blankets, toys and things for the nursery) I made the Flower Cardigan out of that book. They had a hat. It also had only one large flower, but I liked my idea better. ;). The hat here is my design.
The set is made out of Moda Dea Silk'n Wool Blend in 'orchid pink'. The trims are all wool. I made the 0-6 month size but made the sleeves 1 inch longer than given (glad I did).
Here it is modeled by my "itty-bitty" DGD who is 4 1/2 months old and just over 10 pounds.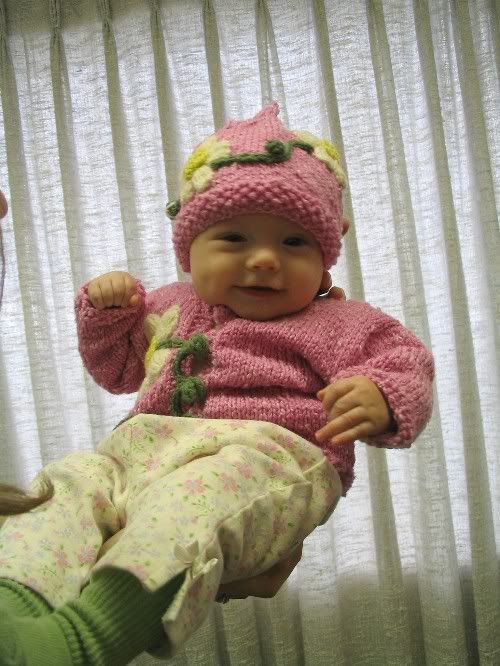 Here is the set where you can see it better.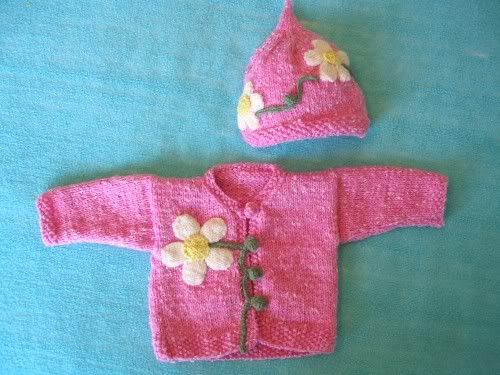 And here is a detail of the bobble buttons, "stem" button loops, and flower trim.
The sweater and hat are very simple. In fact as I knit the sweater I was not very excited about it, but after I got it sewn together and started the trims I got so enthused I couldn't quit working until it was done. I love it.