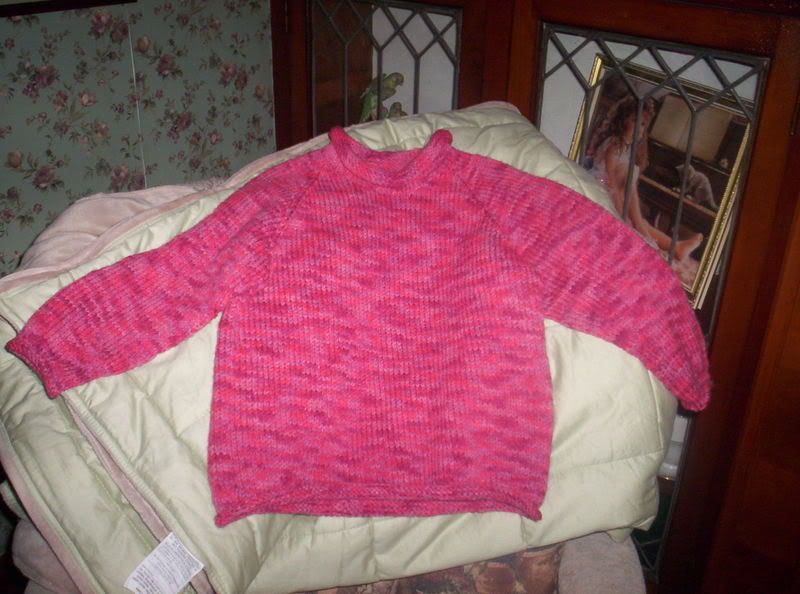 I keep trying to put a couple of pictures here…but it won't work…
Ginny
Really pretty and the little roll neck looks so cute. What yarn did you use?
Pretty yarn. Looks great.
You know what? This was really inexpensive Caron, all acrylic, not simply soft…I lost the label…but the color was country rose… a big skein cost $5 and it only took one of the skeins! I needed to make it machine wash and dryable…my daugher is not good at "laying flat to dry" not that I blame her with 3 children!
Ginny
What a perfect sweater! It looks warm and comfortable. Is the pattern on-line???
No it is a pure and simple pattern…children's neckdown pullover
That was my first guess. I was just hoping it might be free! I'm sure those patterns are well worth purchasing, though. They turn out so well, like your sweater did. Thank you!!
Check out the "Percentage" sweater instructions on "knittingfool.com". It works! Although, Pure and Simple patterns are WONDERFUL, too! Mary
Nice job! I'm sure the little one will love it!
What a great, cheerful sweater! I
the simple pattern