I made these fingerless mittens for another GD who is turning 12 on the 13th. I made the Dashing mitts for her sister last month. I didn't like the way the Fetching mitts were done around the palm edge, so just did a K2, P2 rib, and put it on the thumb too.
Then I did a hat to match. The yarn is Wool-Ease rose heather. I repeated the idea of lots of cables but made the mitts and hat out of one skein, so I couldn't use as much yarn as it would have taken to make them so small. Also only a few days until the birthday so I used a bigger needle for the hat. Actually a 4 for the ribbing and a 6 for the rest.
I wanted to use the K4, P1 rib that was on the gloves and just winged it on how to decrease at the top. On my first decrease I eliminated every other purl stitch. Then lined the decreases up there. Later when I came to where the other purl stitch was slated to go, I started purling 2tog instead of K2tog that I used at first. Came out kind of interesting on top.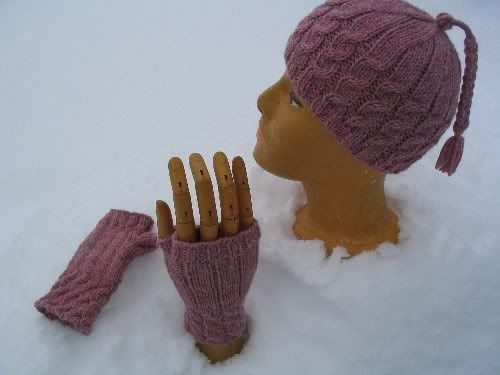 We have a lot of new snow. Hat and mitts model or avalanche victim?