Here are a few items I finished this weekend…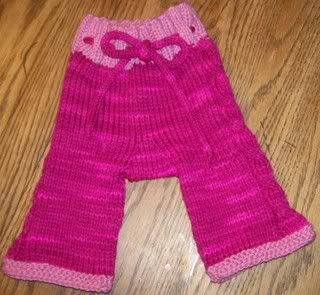 I love them all. You really did a great job. Did you get the patterns online or from a book? I would love to get them.
They all look great!
Those are adorable! I love how baby pants are so big in the butt, with short little legs! heheh…very cute. Like that bundle blanket too…pattern?
CUTE CUTE CUTE!
i'M INTERESTED IN PATTERN INFO AS WELL!
Thanks you all!!
For patterns…
The cabled capris I used the Belladonna Designs pattern and just tweaked it a bit and added cables on the sides.
http://hyenacart.com/prod_details.php?id=38295&vid=493
The soaker…I used a combo between the Curly Purly Soaker and the Punk Knitter Soaker pattern. I just added a heart to the bum too. I used the waistband on the punk knitter but did the decrease and leg stuff from curly purly. Then I just did a 2 x 2 rib on the leg openings.
http://community.livejournal.com/punk_knitters/110889.html
http://www.curlypurly.com/soaker.html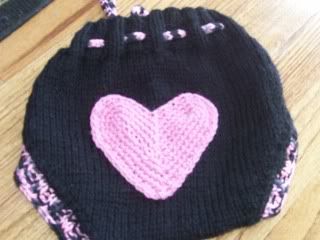 The baby blanket…I made up LOL. I did it like you do a basic dishcloth but went to where the side measured 20 inches then decreased down to 30 stitches and then garter stitched a few rows. Then put in buttons and and whip stitched button holes.
http://majorknitter.typepad.com/photos/patterns/dishrag_and_magazine_photo.html
Wow! they are all so cute! I love the little heart on the britches!
Everything looks wonderful-I especially love the little sweetheart on the bum :teehee:
I'd never want to take it off the baby-lol!