I have four skeins of Noro wool yarn for sale. I got this from my stepmom, she and my dad live in Japan and bought those for me off a Japanese website. I know they are %100 wool and that they are 100 meters each and weight 50 grams each. And you use needles 8- 10 on the yarn, but no gauge on the label. They are all from the same lot too.
I will sale them for $30 which includes shipping. Or trade them for Bare worsted, bulky or sock weight. %100 wool or superwash. I would like 8 skeins total to trade for the Noro. If they are superwash, 6 skeins is good. I also am looking for any color of wool yarn. Just let me know what you have and we can work something out! Pm me with any questions!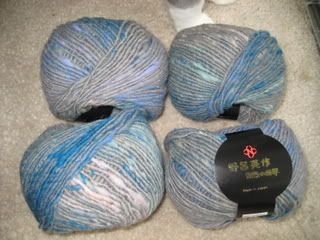 and that is my cat's leg.