I finally finished my baby blanket back on July 11th, and managed to take some pics today. I also knit up a dragon hat for my Little Monster the other day using leftover yarn from the blanket, which I have LOTS of.
The blanket pattern I just made up. Nothing fancy or special. I cast on 125 stitches and did a 2 inch garter border. I knit it in all one piece using intarsia for the border. The stripes are all different widths. I just knit one colour until I got bored and then would start another colour. I weaved in all my ends as I went.
I used a weird mix of Knit Picks Comfy Worsted in Marlin (blue), Honeydew (light green), Ivory, and Knit Picks Shine Worsted in black, and Shine sport in Grass green.
I found all the yarns to be completely different versions of each weight. The black was the thickest, the rest were all very light worsted or closer to DK than worsted.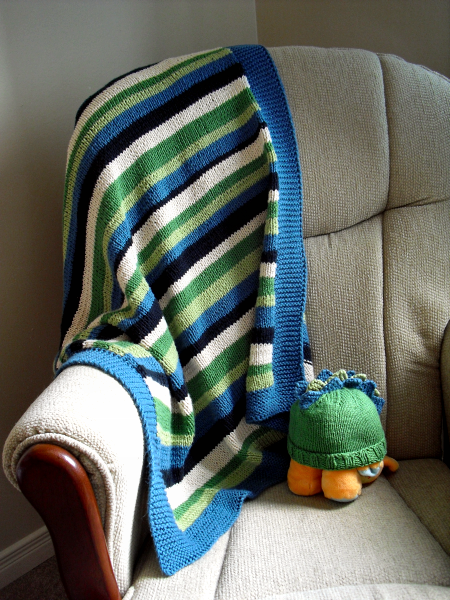 The hat I followed the Very Basic Beanie pattern. I had intended to not do a rolled brim so I knit only one inch of ribbing, but silly me forgot to subtract an inch from the pattern before doing decreases so it still requires the rolled brim. Oh well, it will probably fit him longer this way… maybe.
I added the dragon scales strip to make the hat more unique. I have notes on it's ravelry pageon how I did them if anyone is interested.
Front of the hat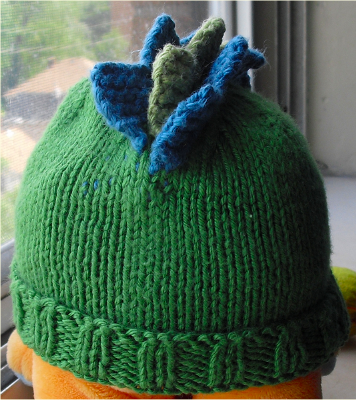 Side view of the hat

Top of the hat